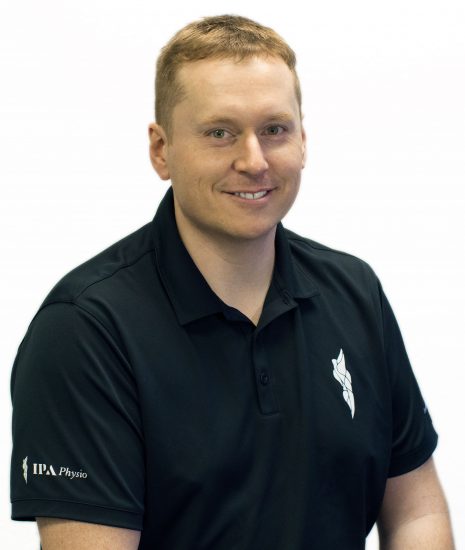 Foster King
DPT, OCS, CFMT, FAAOMPT
https://ipa.physio/portland/
IPA Physio Portland, Southwest Beaverton Hillsdale Highway, Portland, OR, USA
---
About Foster King
Foster is a Portland area native and attended Jesuit High School prior to his bachelor of science education at Gonzaga University. In 2006 he graduated from Regis University in Denver, Colorado with his Doctorate of Physical Therapy degree prior to moving to Steamboat Springs, Colorado. In 2009 he returned to Oregon and worked a 1 year residency program focusing in orthopedic physical therapy specialization and Functional Manual Therapy. Following his residency he continued his professional development by working an additional 6 month residency at the Kaiser Center for Rehabilitation in Vallejo, Ca focusing on management of patients using Proprioceptive Neuromuscular Facilitation, or PNF. Foster met his wife Kristin while working as traveling physical therapist in Washington State, prior to moving back Steamboat Spring to work an intensive 1 year fellowship in Functional Manual Therapy. In 2013 he and is wife moved to New Delhi, India to provide mentorship to Indian physical therapy residents. Foster is currently welcoming new patients at his practice, IPA Physio Portland.
Work Location & Information
IPA Physio Portland, Southwest Beaverton Hillsdale Highway, Portland, OR, USA
Foster King holds a doctorate degree in physical therapy from Regis University and has specialized in orthopedic manual therapy for the last eleven years.  Foster has received extensive mentorship from respected colleagues all over the country including: a Functional Manual Therapy residency in 2009, a 6 month neuro – residency from the Kaiser Center for Rehabilitation in 2010, and he is a recognized fellow in AAOMPT after successfully completing his fellowship training in 2012.  Foster is a faculty member for the Institute of Physical Art and has mentored therapists all over world in the FMT approach.  He brings passion to his patient care and believes that every patient has existing potential to live a more efficient life.  He specializes in chronic conditions of the spine and complex cases that have failed traditional treatment approaches.  Foster provides expert movement diagnostics, sound clinical reasoning and a comprehensive, functional management approach to deliver solutions to his patients.
Personal interests and hobbies include: quality time with his family, skiing, hiking, spending time in the mountains, and professional development.
IPA Physio Portland, Southwest Beaverton Hillsdale Highway, Portland, OR, USA
Details

Foster King holds a doctorate degree in physical therapy from Regis University and has specialized in orthopedic manual therapy for the last eleven years.  Foster has received extensive mentorship from respected colleagues all over the country including: a Functional Manual Therapy residency in 2009, a 6 month neuro – residency from the Kaiser Center for Rehabilitation in 2010, and he is a recognized fellow in AAOMPT after successfully completing his fellowship training in 2012.  Foster is a faculty member for the Institute of Physical Art and has mentored therapists all over world in the FMT approach.  He brings passion to his patient care and believes that every patient has existing potential to live a more efficient life.  He specializes in chronic conditions of the spine and complex cases that have failed traditional treatment approaches.  Foster provides expert movement diagnostics, sound clinical reasoning and a comprehensive, functional management approach to deliver solutions to his patients.

Personal interests and hobbies include: quality time with his family, skiing, hiking, spending time in the mountains, and professional development.

My Work Hours

| | Opens | Closes |
| --- | --- | --- |
| Monday | | |
| Tuesday | | |
| Wednesday | | |
| Thursday | | |
| Friday | | |
| Saturday | | |
| Sunday | | |